[New function] Introducing the split function of Ondoku! The created audio file is automatically divided at regular intervals.
Jan. 17, 2021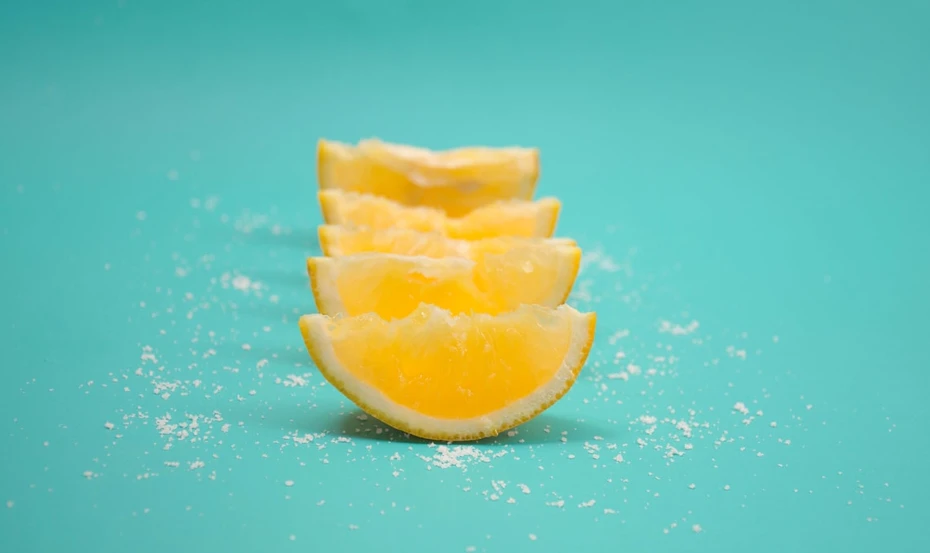 Hello, this is Ondoku.
Ondoku has another new feature following the dictionary feature!
The new feature is the "split" feature .
With this split feature, you can solve simple tasks that had to be read and downloaded many times at once.
I'm making a youtube video
Making a wordbook function
Tired of repeating simple tasks of reading and downloading
It is highly recommended for those who are in such a situation. Please use it.
In this blog, I will introduce in detail how to use the split function.
Detailed explanation of Ondoku's split function
Ondoku's split function is a function that allows you to split the audio once created at regular intervals and download each as a separate audio file .
For example
1, 2, 3, 4, 5, 6, 7, 8, 9, 10
You can download the audio file by separating the sentences read out by Ondoku at once by using dots.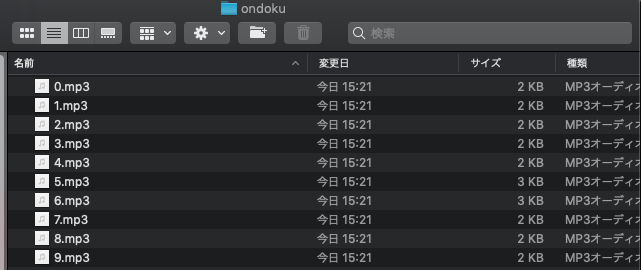 Audio files are stored together in one folder.
The way to decide where to split is the length of seconds in between. It is not a symbol such as ",".
If you want to set the interval length accurately, use SSML <break time>.
How to adjust the interval with Ondoku
For a list of simple words, it is recommended to use Google Spreadsheet, Excel, etc. to create the text to be read aloud.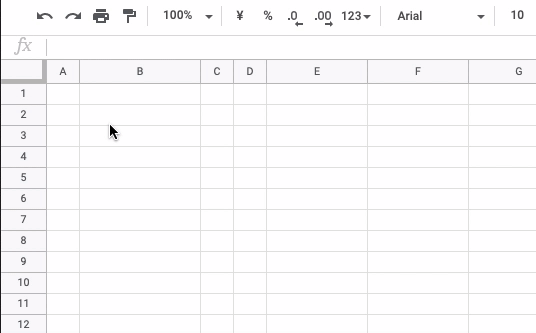 For example,
1, 2, 3, 4, 5, 6, 7, 8, 9, 10
In the case of, please make a table like this.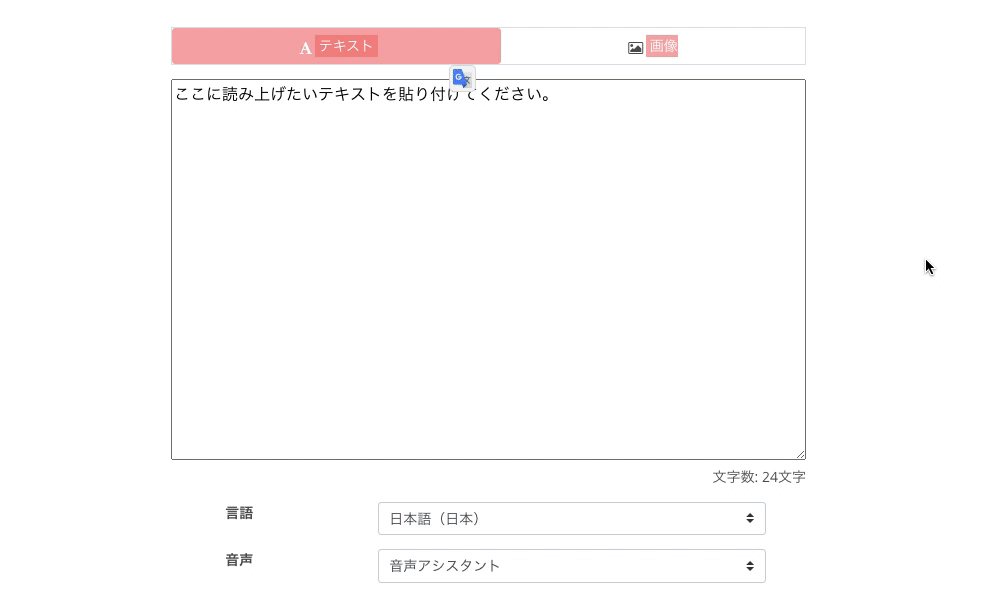 And if you copy and paste to Ondoku as it is, you can make the voice read aloud very easily.
The method of making this sentence can be applied in various scenes. Please make use of it.
How to use Ondoku's split function

You can check the split function from the history page.
Click History to see the history you read aloud.
Then you will find a "split" button in addition to the download button labeled MP3.
Click this split button.
Click Split to see a screen like this.
The interval (ms) ms is the number of milliseconds .
1 second = 1000 milliseconds
0.5 seconds = 500 milliseconds
0.1 seconds = 100 milliseconds
is.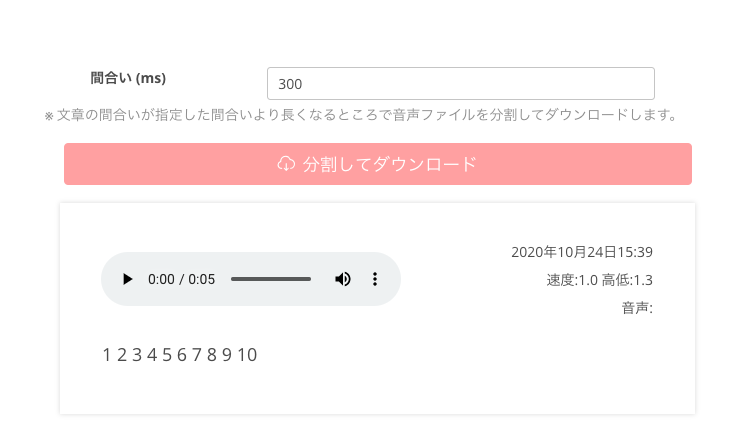 The standard for splitting is set to 300 ms .
The voice I made this time uses 200 milliseconds.
If you leave it specified at 300 milliseconds, it will be like "The interval of 200 milliseconds is short, so it will not be divided there ."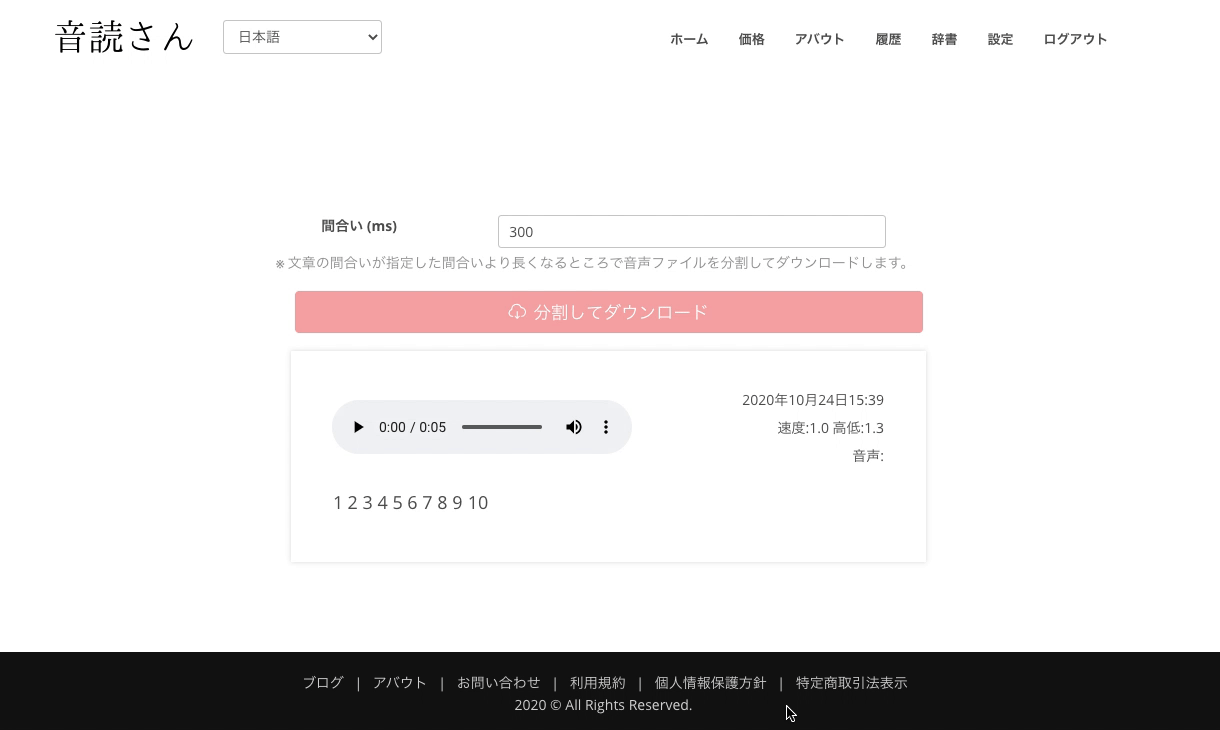 I want to split at 200 milliseconds, so let's change the number to 200.
You can also change the number from the horizontal cursor.
If you click Split and Download, it will automatically split at the part with a gap of 200 milliseconds or more . After a while, a ZIP file containing the divided audio files will be created.
Click Save to download the ZIP file.
Unzip the downloaded ZIP file and check the contents of the folder.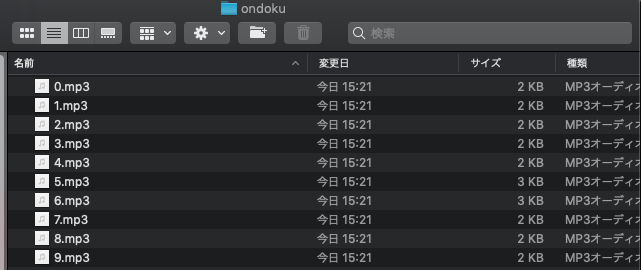 Then, the files numbered 0 to 9 like this were saved.
The file name is automatically assigned a number from 0 to the first part of the divided sentence.
This split function is a convenient function that can greatly reduce the repetition of reading and downloading, which has been troublesome until now.
It may be difficult to use at first, but it is very convenient, so please try it!
We are happy to be the easiest text-to-speech site for you today.
From now on, we look forward to your continual support.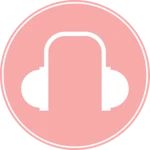 Text-to-speech software "Ondoku" can read out 5000 characters every month with AI voice for free. You can easily download MP3s and commercial use is also possible. If you sign up for free, you can convert up to 5,000 characters per month for free from text to speech. Try Ondoku now.
Related posts